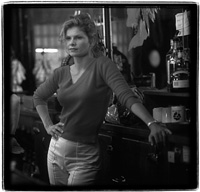 LOLITA DAVIDOVICH (Betty) recently starred opposite Jason Alexander and James Woods in STRANGER THINGS. She also appeared as the suddenly single mom in NOW AND THEN, and before that as a Reno cigarette girl involved with controversial baseball star Ty Cobb in Ron Shelton's COBB, starring Tommy Lee Jones.
Davidovich has enjoyed success as a lead actress in major films from the very beginning of her screen career when she starred opposite Paul Newman in Ron Shelton's BLAZE in 1989. From there, she has continued to star in a variety of distinguished screen and television roles. Davidovich's list of film credits includes Mark Rydell's INTERSECTION, Richard Pearce's LEAP OF FAITH, Oliver Stone's JFK, Andrei Konchalovsky's INNER CIRCLE and opposite Donald Sutherland and Brendan Fraser in Percy Adlon's YOUNGER AND YOUNGER, for which she received the Best Actress award at the Tokyo Film Festival. Her television work includes the HBO miniseries "Prison Stories: Women On The Inside", for which she received a Cable ACE award nomination.
A Canadian-born daughter of Yugoslavian parents who settled in Ontario, Davidovich studied acting in Chicago, New York and Toronto.