2007 marks the tenth anniversary of filming of GODS AND MONSTERS, which began on June 30, 1997 in Pasadena, California. 24 days of principal photography were completed on July 28, 1997. The film premiered at the Sundance Film Festival on January 21, 1998, and was released in US cinemas on November 4, 1998.
To see the original day-by-day schedule (PDF), click here.
Annotated Screenplay and
Notes by Ian McKellen
"Like many actors, I penciled in notes throughout my copy of the script for Gods and Monsters. While filming, I occasionally asked writer/director Bill Condon for background details that were not in the script. I also jotted down ideas for how to portray James Whale in certain scenes. People interested in the process of filmmaking may find it interesting to see these raw notes in the context of the actual script, which includes some scenes that didn't make it into the final film." — Ian McKellen, June 2007.
[Webmaster's note: For his role as James Whale in Gods and Monsters, Ian McKellen was nominated for the Oscar for Best Actor in 1999. Thanks to Bill Condon for permission to present his script in this form.]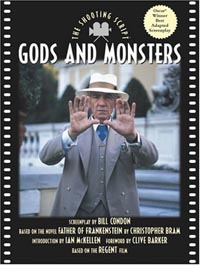 Buy the Shooting Script at Amazon.com